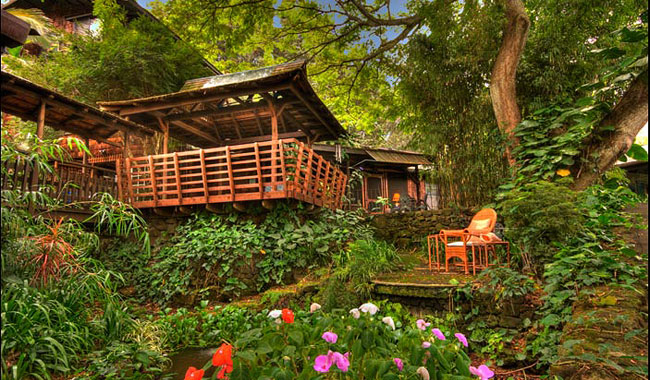 Hale Maluhia Country Inn is truly a "house of peace" with a local Hawaiian Up-country experience. The Inn is very comfortable with truly a touch of aloha from old Hawai'i. But it is not possible to control the country environment in our beautiful Hawaii setting. There are some coqui frogs in the area that sing at night. Wild turkeys may sometimes make a racket. A hen may be setting only a few feet from our driveway. Rancher Gomes's has chickens on his ranch across the way and his hunting dogs may smell a wild feral pig at night and want to go hunting. Our little country road is some what busy during commuter hours. As Hawaii has a few bugs and no frost so we have our hens on outside watch and geckos on inside watch. We truly enjoy our local Hawaiian Aloha ambiance and love living in the Kona Coffee Country. But we do not make refunds due to our normal country sounds. We are a very Peaceful Country Inn but please call us if you have any concerns as some do better in a concrete box down town.
Enjoy our country ambiance in the Hawaiian Kona Coffee Country. But please call us if you have any concerns. Hale Maluhia Country Inn, is truly a Kona Coffee Country Inn, an aloha touch of old Hawai'i in the land of the Alii.
Rental Policies:
DEPOSITS:
Reservations require a one night minimum deposit or 50% of the total reservation, which ever is greater. The room or cottage is considered "sold" at that time. Reservations made within 7 days of check-in will be charged in full at the time of booking.
CANCELLATION POLICY:
Cancellations within 7 days of arrival date and "no-shows" will be charged in full. Cancellations must be made by email (aloha@hawaii-inns.com) and have management acknowledgment to be valid.
OTHER POLICIES:
Check in time: 3PM
Check Out time: 11AM
There is a $15 per night charge for additional guests.
We ask our guests to refrain from smoking indoors.
Towels, Keys, and Smoking:

TOWELS: We do take inventory as to the towels and linen upon guests leaving and will charge your credit card $25.00 per towel or other items. It is difficult to find the time to try to match the towels or ? when lost or taken. Our beach towels cost $15. But we charge $25 for the towel and for the time to chase down a new one. Also white towels stained with makeup, tea bags and such will be charged for as the stain is permanent and will not wash out. Any other damage will also be addressed in a reasonable manner.
KEYS: As the room keys all have a master key so we have to make 2 trips to the locksmith to make sure the lock is changed for both the room key and the master key in the event that the key is lost. This is time consuming and expensive. The charge for a lost room key is $50.
SMOKING: When a guest smokes in a non-smoking room we have to clean every thing upon check out. The walls, furnishing, bed clothes, curtains, windows all must be cleaned. The charge for cleaning a smoked in room is $200. All of our rooms are non-smoking. Some try smoking in the bathroom with the window open but we still have to totally clean the room and bathroom. Smoking is allowed in the lower parking area.